Humng is a producer, label manager, and music lover! Alf Deep never tried to get caught up in a specific genre of the house but wanted to keep the productions up to date and innovative with his musical style that combines electronic sounds and progressive productions. Passion, Humility, Growth! Three key points and a solid basis for the artist cannot be separated. Good music to all…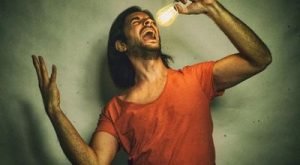 Hey Humng Glad to have you for the Q&A, tell us a little bit about yourself? (Name, age, where you're from, what you do , etc)
Hi Deep Waves Music, my name is Alfredo Sonnessa better known as HUMNG. I live in Venice and I am 43 years old. I have been in the recording industry for about 20 years, to date as well as being a DJ I am also a music producer through my own record label Smashing Records and I have a company with a partner that deals with music services such as mixing, mastering, etc.
How did you get your start in the music industry?
I started small steps as an entertainer and DJ in tourist villages in Italy and Egypt, then I managed to join some local radios as a speaker and have music programs mixed with dance music. Hence the inclusion in various local and national Clubs led me to meet big names in the sector with growth opportunities and musical dates also abroad.
How was the production process on your latest single "Villains"?
I am very careful in looking for new sounds to offer to people with one goal: to entertain them. I alternate POP projects with more Electro House projects such as "Villains". All the tracks follow an initial inspiration, sometimes unpredictable, then the choice of sounds compatible with what I want to create and editing suitable for the situation. In the production process, I am supported by my Sound Designer with whom I compare and collaborate to ensure that everything sounds good.
Which DJ/Producer has been your biggest influence?
From the beginning, I have always been fascinated by producers like Daft Punk, Benny Benassi, Depeche mode, and David Guetta.
For someone who may listen to the track for the first time, which sounds in the track should people look out for when listening to it?
Certainly, the bass lines and the synth are the points that I try to make the most of because they are the essence of the track. In the finished track, I do not give particular references to a listener, I leave a clean and personal listening.
How does it feel to see your songs topping the charts of traxsource?
On Traxsource I am very happy because I often get the first position in the electro house rankings, but I can also say the same with regard to Juno Download while on Beatport I am often in the top20 and sometimes in the top10 of the Mainstage section as well as receiving promotional spaces on the home page for track visibility.
Can you explain more about your role as Label Manager
I manage all the bureaucratic and organizational aspects of my record label Smashing Records starting from the idea of the cover all the way to marketing for distribution. It is a young record label but it already has many productions which reached the top 10 sales positions in many digital stores.
As a Label Manager, what are the things you consider most in an artist?
Surely an artist must produce the most original sounds possible, which is not easy of course, and with his traces to create a dimension in which a long-term project can be realized. The details in a track are crucial and always make a difference.
What has been your biggest career achievement to date?
By now all the tracks I release get excellent sales positions and are always in the charts, I collaborate with the Club Session brand which often includes them in their compilations on various record labels and this is the result of years of promotion to which many people have grown fond of and follow me. However, I can list a trace from many years ago and I use it as a reference because it changed many things in my life, his name is Latigo released on Trendteck Records and at the time my artistic name was DJ Patrik. The most important site of that period was deejay.de and there was only vinyl, there was no sale of mp3 formats. With Latigo, I reached number two best selling records behind only Bob Sinclar with his track World Hold On. It was a truly impressive and rewarding moment.
Do you have any hobbies aside from music production?
Often you have to disconnect from the music, I really like to read, travel and take time for myself This helps me a lot to reflect and come back more energized than before.
Are you scheduled to go on tour or perform at music festivals soon?
The pandemic has blocked some projects I had built and getting them started is difficult. I am working with some management for new dates also abroad and in the meantime, I'm 100% involved in music production with new tracks coming out soon.
What else shall we look forward to hearing from you in 2022?
I have a lot of finished tracks ready for release. Already in the next few weeks, I will release a new track. New music is on the way. Enjoy!
Finally, Would you like to share any tips for upcoming DJs & Producers
The world has changed, and everything has become extremely fast, a word spoken today may already be old tomorrow. Passion, Humility, Growth! Three key points and solid foundations that can never be separated. This I can share and recommend.