House District Records is an independent EDM festival record label founded in May 2019. Many artists struggle with building a sustainable, receptive audience, resulting in great music that doesn't get heard. House District Records aims to not only support our artists, but we strive towards scouting rising talent with a dynamic and electrifying sound that can be ushered to the center of the EDM universe.
Right now you own one of the Finest Mainstage Banger Record Label. How did it all get started for you?
Thanks for the compliment! It all started for me back in mid-2019 when I started the label. I had no idea of what I was doing so I just went with the flow. Learned on the go how distribution was done, learned to source designs, make contacts, talk to artists & how contracts work. I've just always been passionate about EDM and I thought that starting an EDM record label would be a good idea for me.
When does your passion for EDM date back to?
My passion for EDM dates back to when I was about 7-8 years old. My older brother would spend all day on Hardstyle & Hardcore blogs (back in 2008) and that's how I discovered that genre. Later I ventured myself into discovering more and more about it. As it may come to no surprise, Animals by Martin Garrix opened the door to me discovering Big Room/festival genres, and I've been in love with the genre ever since. I would also like to make clear that I don't only listen to Big Room, but I also dig Hardstyle, House, Tech House & Emo Hip-Hop (think Juice WRLD and similar artists).
You've been getting Massive support from Big DJs/Producers, how do you feel about that Support?
Who doesn't love being supported by artists & DJs you've always looked up to?! I can still remember the feeling of pure happiness and joy when Maurice West first played one of our releases in Dutch Radio Slam! FM back in September 2020. We also got supported by Tungevaag live at Electric Love Festival last summer. It's simply one of the best feelings in this world.
As a label owner, what do you look for in demos?
I look for nothing specific really. We're now opening up to more genres like House, Rave Room & Future Rave, aside from Big Room only; since it gets stale after a while only releasing Big Room, and you need to keep the audience hooked with new sounds & surprise them with amazing releases. So really, just surprise me & the A&R team. Nonetheless, no slap house, please 🙂
With so many other Dance/EDM labels out there, how do you differentiate yourself?
The vision I had for House District Records right from the get-go was to treat artists as people with emotions and feelings. So many labels out there treat them like numbers or cattle. I just don't work that way. Our team is super close to each other, we're all there for each other. Moreover, we like to be close with our artists and push them to produce consistently. Also, very importantly, I personally like to push artists to get out there and show themselves to the world. Playing live is how artists succeed, and not many labels go that extra mile for their artists; because Spotify streams ain't gonna pay the bills!
Who are some of the newer Producers/DJs you are working with that you're excited about?
I'm extremely excited for K3WRO, XanTz & Ozgun mainly. There's so many artists that I love releasing tracks from and helping them as much as I can, however, those three are the guys I see the closest to making it BIG in the scene.
What kind of strategy does the label use to promote music?
Reaching out for YouTube support, radio support is really important too. We don't focus a lot on Spotify since it's really unprofitable & I just see it as numbers on your profile. While that can really boost confidence, it doesn't translate to success in the business.
So many artists out there have released 100.000 plays on many tracks, but that doesn't translate to having a fanbase that will support you, and it won't get you to play live. Each label takes its own approach. Certainly nothing wrong with focusing only on
Spotify, but that's not how we roll in HDR.
What advice can you give to emerging artists who are trying to break into the EDM scene?
Be consistent, find something that makes your tracks stand out (ideas, sounds, etc), and keep grinding. That's the only way you're getting noticed in this oversaturated market & business. Bring something to the table that is not a standard. With this, I'm not saying
you should reinvent the wheel, but bring something that will hook people & that will create a following.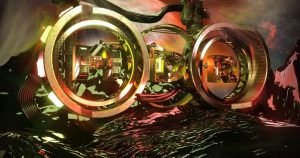 Lastly, what do you look forward to in 2022?
This 2022 I'm really looking forward to seeing artists like XanTz play live. I also look forward to working with other (bigger or smaller) on releases & creating more and more contacts. It's simply how the game works, you gotta stay busy.
Finally, if you could offer up an inspiring message during this uncertain time, what would it be?
I kind of already answered this question above. But to reiterate; you have to be consistent and keep grinding. Focus on what you think you're good at, and you think you can succeed, and stay at it. The scene will get better as time goes by, and don't close yourself to any opportunities that might appear along with your career.
Imagine you are starting HDR from Scratch itself so what will you include in the Checklist?
I'd make sure to have a great social media presence, being on most social media outlets. Having a website for me is a must since you can create an audience there too (Instagram followers don't translate to real fans). Also, I'd define what objective you want the label to have. Finding a good designer and sticking with them for as long as possible (I myself am guilty of changing designers too often, but now I'm satisfied with who I'm working with) & finding an artwork style of your own. Building promo lists is also a must to send the label's releases too. A must too is to find a set of artists who you can closely work with and release multiple of their compositions, that way you create a better relationship with them & better secure success for the label, rather than jump around
with a billion different artists.
*Also, check out HDR Spotify Playlist below. 
https://open.spotify.com/user/7o9u50ta5vzbiy5dci87i015b