Meet Uri Farre, a prominent figure in the electronic dance music (EDM) scene with over 15 years of experience. In this blog post, we explore Uri's remarkable journey, from his early beginnings to performing on illustrious stages alongside renowned artists like Martin Garrix, David Guetta, and Armin Van Buuren. We'll also delve into his creative process when producing tracks for various record labels, his role as a radio host, and his thoughts on staying fresh in the ever-evolving EDM landscape. Uri shares valuable advice for aspiring DJs, producers, and remixers and expresses his appreciation for platforms like Deep Waves Music that support emerging talent. Join us on a sonic journey with Uri, a true EDM virtuoso.
Hello Uri, With over 15 years of experience in the electronic dance music scene, can you share with us how your journey began and what initially drew you to the world of music production and DJing?
My beginnings in the world of DJing and production were many years ago. I was lucky to have great references who helped me although the beginnings were not easy. I remember my first shows when I was still a kid. Before, the playing technique was totally different… the digital world did not exist and everything was very different.
Working with prestigious clubs and festivals, including events with over 50,000 attendees, must have been an incredible experience. Can you tell us about a particularly memorable performance or moment that stands out in your career?
The truth is that everything is being incredible. We try to make all shows unique and memorable. To highlight, my show at Pacha Ibiza. It was a pleasure to be able to play in a club with such prestige and history. I also fondly remember my show at the Barcelona Beach Festival. Sharing the stage with top DJs like Armin Van Buuren, David Guetta, Steve Aoki… was amazing.
Your versatility as a DJ and producer is evident in your ability to play various styles like big room, progressive house, and tech house. How do you approach selecting the right style for a specific crowd or event?
I try to connect with the audience and their emotions in each song. I like to see their reaction constantly and that is why I am adapting and modifying my extensive repertoire. The goal is for the audience to be happy with the show and experience something unique.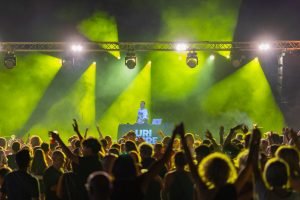 Being nominated for Best Artist in the Vicious Music Awards is a remarkable accomplishment. Can you describe the emotions you felt when you received the nomination and how it has impacted your career?
It was a big surprise for me to be nominated in the EDM category of the prestigious Vicious Music Awards. It is always a huge compliment to have your work recognized, and if it is with a nomination even more so. I am very happy and grateful to have been nominated. The nomination has made some clubs interested in my shows.
Holding a residency on Europa FM since 2010 is impressive. How do you keep your sets fresh and exciting for your regular listeners while staying true to your unique style?
I try to have a varied, dynamic, engaging and wide repertoire. Always adapting to new trends but maintaining the original style so that the listener is comfortable and happy with what they listen.
With releases on well-respected labels such as Blanco y Negro Music, Enormous Tunes, and Vandals Recordings, can you share a bit about your creative process when producing tracks for different labels with their own distinct vibes?
When I have an idea for a track, I try to work on it and develop it while maintaining the initial idea as much as possible. When I have the track more advanced, it is true that I refine some details so that it is more typical of each record label.
Playing alongside artists like Martin Garrix, David Guetta, and Armin Van Buuren on stages like Barcelona Beach Festival must have been electrifying. Can you walk us through the preparation that goes into performing at such large-scale events?
When I have a show at such a big event I like to have everything more studied and organized. If in other shows I am constantly improvising, in events like the Barcelona Beach Festival I like to play a more previously studied repertoire. There are many details that must be taken care of so that everything goes well. It is important to have everything as organized as possible.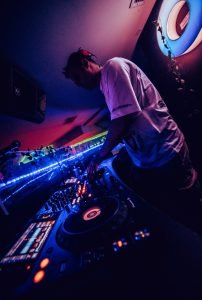 As a radio host, how do you curate your playlists to provide your audience with a dynamic and engaging listening experience?
Always thinking a lot about the audience who is listening to the radio at all times. Adapting the music to the time zone, the age of the listener, their tastes and preferences. Listening to music in an office is not the same as in a gym. The musical style will always be something different.
With the constantly evolving electronic music landscape, how do you ensure that your style remains fresh and relevant while still staying true to your artistic identity?
This is the most difficult. As you say, music is constantly evolving and it is not easy to adapt. I always try to maintain a style and sound that defines me but opening my mind to new trends to be fresh and current.
How has your Spanish background influenced your musical style, and do you think it's important for artists to infuse their culture into their work?
Personally, I think it is important and very interesting that artists can show their origins and culture in their music. That enriches our productions. This way we can discover very interesting details about each artist depending on their geographical area. I am working on new projects that will clearly show all this.
What advice would you give to aspiring DJs, producers, and remixers who are looking to make a name for themselves in the EDM scene?
Let them work hard and not give up. Let them be constant and faithful to their style. Sooner or later the good ones come. The road will surely be long and obstacles will appear but you should not give up. With dedication and hard work the rewards will come.
Few Words about the Deep Waves Music
The truth is that Deep Waves is incredible. You support artists and their music and this is amazing. Always with very varied and very fresh tracklists and maintaining your essence. You have supported my latest tracks that I have signed with IMO (Orjan Nilsen's label) and with Blanco y Negro and I thank you very much.