Hey Vaibhav glad to have you for the Q&A. How are you and how has 2022 treated you so far?
Hi, first of all, thanks for having me on your show and giving me this opportunity. I am good thanks, I hope you're safe and in great health. 2022 has treated me surprisingly well, I'm happy to see things falling into the right places as planned. I'm proud to see my accomplishments so far.
A massive congratulations on the recent release "You Changed Me Babe" with Singer/ Songwriter Lola Rhodes! Tell us a bit about how the idea to produce originally came about?
Lola and I have been in touch for many years now. It was the start of the year and we all were looking for some tasteful tunes to bring the energy up post-pandemic. I had written chords & decided to join forces with global superstar Lola Rhodes. She liked the idea and recorded the vocals. Let me tell you she just did her magic, emanating heartfelt emotion from the off that instantly pulls listeners from the heart-touching lyrics narrated by her unblemished vocals floating over a groovy production with an emotive piano & guitar-led breakdown. Giving purpose to the dance floors and festival grounds worldwide, 'You Changed Me Babe' released via Seal network is easily one of the most energetic cuts with the silky vocals that lead the listeners across a majestic soundscape and will leave them wanting more from us that you won't be able to find anywhere else.
How did you get your start in the music industry?
I started as a DJ/ Music Producer about 10-12 years ago. I remember, I was surfing on internet and I came across videos of making music and performing as a DJ, I was amazed by what I saw and just thought it must be the coolest feeling to be up there and play my own music, so next, I started learning music and trying my hands on it while I was simultaneously learning how to DJ. So once I was a bit confident I connected with some of the venues and I started getting shows. While at the same time I started signing my songs with the labels, & have never turned back till date.
Since you've been signed to some of the biggest labels in the industry, I'd like to know what are the key factors that enhance your drive to succeed.
Interest, passion, patience, and curiosity to learn. There is no shortcut to success, have faith in your work, and your journey. Give your best and everything will fall into the right place. Your dreams will come true!
in terms of goals, targets, etc. Are there any special achievements from your career so far that you would like to share?
– It was mind-boggling to have my song at 45th rank for over two weeks on the top 100 worldwide Beatport list alongside some of the industry's heavyweight artists like David Guetta, Martin Garrix, etc during the time of the pandemic.
– Getting an under 30 emerging industry experts nationwide award for my contributions as a Music Producer/ DJ
– Signing songs to some of the world's leading labels.
– Garnering thousands of plays, and views on my songs
– Getting featured by the most reputed national news/ media portals.
– Performing for some of the most popular dance music companies like Sunburn alongside heavy hitters of the scene.
What would be a dream collaboration for you and why?
Ah! This is a difficult question because every artist you collaborate with brings you a different perspective, energy, knowledge, and experience and I would love to collaborate with many producers, and singers out there!
What do you enjoy the most, DJing or Producing?
Actually, both, because for me it is like a process of meditation, happiness, creative space, and process of insight. On top of that, I have recently started to explore making 3D visuals. I started to explore 3d stuff during the pandemic time. I made some of the music videos of my songs on my own Vaibhav Nagare – Shahenshah
You work for one of the finest companies, so how do you balance music and work?
It's difficult, sometimes very very difficult. But as they say, if you have passion and interest you will find time for it. My schedules are super tight, from office work to music work and performing, everything is in sync and goes hand in hand. While at the same time I believe relaxing and staying away from everything is very important for one as it gives you double the energy and motivation to bounce back. So to sum it up work during working, relax during relaxing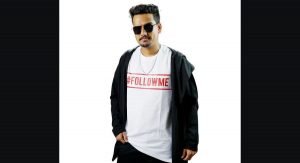 What else shall we look forward to hearing from you in 2022?
Some ethnic trap/ moombahton songs with my style along with some exciting collaborations along with experimental projects and a lot of shows in the last quarter of the year!
Finally, Would you like to share any tips for upcoming DJs & Producers?
Do not get stuck in the usual normal formula of the EDM genre, and don't be scared to try new genres, I'd suggest EXPLORE THEM ALL, you may be great at a type of sound that you didn't expect to be. As legendary DJ/ Music producer Armin van Buuren said "Don't be a prisoner of your own style". Also, find your own style or sound. It's definitely hard and may take months or even years but at the same time, it's very important to have your own signature sound because if you just check some dance playlists on Spotify or other platforms everything would sound similar, or close to that. In order to be unique or exceed the listener's expectations, you have to stick out and just have your own sound! Do not overthink while making a song, or a Dj set perfect, it will never be perfect, it can just get better day by day.
Check Out Vaibhav's Latest Single "You Changed Me Babe"